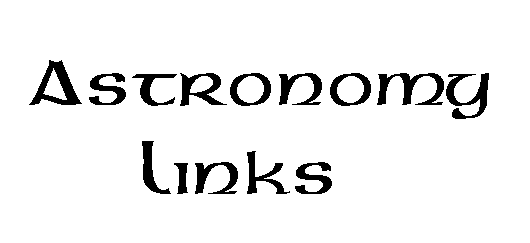 Below are links about amateur astronomy, a hobby of mine.
To find out a little more about amateur astronomy, please click here.

Mike Durkin's Astronomy Log: A record of my observations.
My astrophotgraphy gallery: Various pictures I have taken of celestial objects such as the planets and the Moon. I'm still new at this, so don't expect a lot.

Amateur Observers' Society of New York: A local astronomy club that I am a member of. They are mainly located in Long Island, NY.

---
Miscellaneous Astronomy Links
Upcoming sky condiftions in NYC


Upcoming sky conditions in Robert Moses State Park


Upcoming weather conditions courtesy of The Clear Sky Clock Home Page.
Astrophotography 101: How to Take Stellar Pictures: An article at space.com about astrophotgraphy where I'm quoted.
Astronomy Picture of the Day: Impressive pictures related to astronomy.
Inaka's 3D Space World: 3D astronomical images. They work like the Magic Eye images where you cross your eyes and the image pops out at you.
This week's sky at a glance: Astronomical events that are happening this week. From Sky & Telescope Magazine.

---
Home | Celtic | Astro | Gallery | Misc | Search